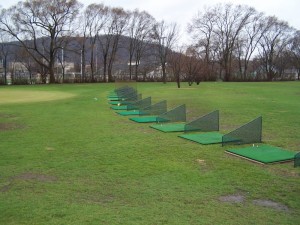 We offer a practice facility that includes 13 stalls, equipped with permanent turf mats with no limit on distance. There are yardage poles placed at 50, 100, 150, 200, and 250 yards.
WE HAVE ALSO ADDED NEW YARDAGE BANNERS TO THE RANGE for the 2022 season, and beyond.
For those seeking to hit off turf, we offer a smaller "irons only" area adjacent to the mats where golfers can hit up to about 150 yards.  We please ask that you refrain from hitting any Drivers/woods from this area.
We also have a practice area for putting and chipping along with a sand bunker where players can master their short games.
Range tokens for balls are available for purchase in the pro shop, to then be taken to the range.
Range Tokens are $5.00/token, or a punch cart of 12 tokes for $48.00.  (Tax Incl.)
NOTE – Westfield G.C. is NOT responsible for any loss, theft, or damage of ANY individual's personal property, while that individual is on Westfield GC grounds/property. 
YOU are also financially responsible for any damage to any rented Westfield G.C. property, (such as motorized rental golf cars, or rental golf clubs), and/or any damage occurred to Westfield G.C. property,  which is not related to normal use of Westfield G.C. grounds/property, by that individual.